Description
New Line/Cable data module
New module for calculation of line and cable parameters based on the MoM-SO method. This tool results from a major development effort by EMTP® team, and a direct collaboration with Prof. Piero Triverio and his research associate Utkarshr Patel from University of Toronto.
Major new EMTP® module capable of achieving highest accuracy levels for a very large band of frequencies.
The module is generic and capable of representing cables underground and above ground, overhead lines and overhead lines coupled with cables. A multi-layer soil option is available.
The module accounts for proximity effect, stranded conductor and earth return.
Unique contribution to the simulation of electromagnetic transients.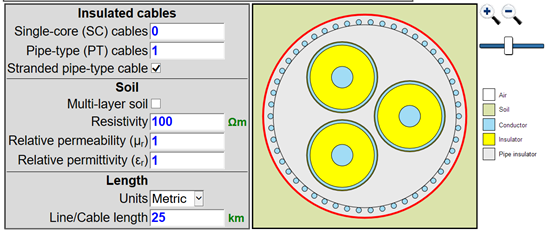 New Power Electronics Toolbox
Various building components.
New AC-DC converter with control.
New Statcom model.
New DC-DC AVM converter.
New examples with Toolbox models.

Renewables Toolbox Updates
Upgrades to PV and WTG models.

Better initialization.
Various improvements (generic models).
PV cell.

New Battery model.
Improvement of convergence criteria for Input Impedance TD device.
New example of PV converter with MPPT and battery.
New charge/discharge battery example.